This week has not been one of the most fun weeks I've ever had. It came with a lot of bad news and bad moods. I didn't post anything yesterday, because I had such a negative attitude and was very emotional. Thankfully though the weeks have been passing faster than I can say onomatopoeia and next Tuesday we find out if the baby is a boy or girl which I am very excited about.
Tonight is also our date night which I look forward to every week. I've already decided what I'm going to make; it is one of my favorite meals and is super easy. It's a recipe I found on allrecipes.com and I kind of put my own swing on it. It's called anniversary chicken and it is literally one of the best chicken dishes I've ever had.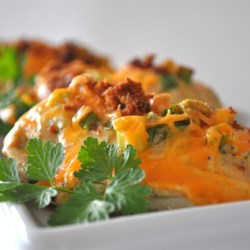 Oh my goodness this recipe is sooo delicious.
Ingredients
Chicken breast
Frank's red hot
Vinegar
Reduced fat/fat free ranch dressing
Plain bread crumbs
Scallions
Bacon bits
Reduced fat cheddar cheese
French's fried onions
Directions
I first marinate the chicken breasts in hot sauce and vinegar for 30 min to an hour, though it's best if it stays in for an hour.
I dip the chicken in some breading you can use seasoned or plain it doesn't matter. Then place it in a baking dish.
Next I take fat free or reduced fat ranch dressing and pour it over the breaded chicken you can use as much or as little as you want.
After that I cover the chicken with cheddar cheese, scallions, bacon bits, and french's fried onions. Sometimes I even add jalapenos for an extra kick, but it's not necessary.
Throw it in the oven at 375 degrees and let it cook for about 30 minutes (I've never actually timed it, but it's around 30 minutes) And wahlah you are finished.
For a side dish I like to make simply potatoes with onions. I found these in the dairy section next to the butter (have not figured out why they are there, but they are) and oh my gosh they are so yummy and so easy to make. I just throw them in a pan with some vegetable oil and add some garlic and salt and they come out perfect. And if you're wondering "Lauren are you to lazy to dice up your own potatoes?" my response is "why yes, yes I am" I hate chopping up potatoes don't ask me why it's my least favorite thing to chop. So even though these are probably more expensive it is so worth it to me.
Each chicken breast has 617 calories, 43 grams of protein, and 37 grams of fat. However, usually a half a breast is enough to fill you if you eat it with a side of potatoes and a vegetable like corn, which is what we usually do.